Abby is a character for the State-Tan-Project and represents the province of New Brunswick, Canada.
Your Provinces' history is pretty much their back story, so share it here!
Personality & Interests
Edit
Appearance
Edit
Relationships
Edit
Provinces
Edit
Saskatchewan: Although they are very far apart geographcially, SK and NB have a very close relationship. SK is one of her closest brothers.
Quebec
: QC and NB are extremley close, having both been around the name amount of time. They have been through a lot together.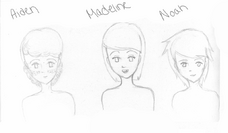 Being both French speaking provinces, it's nice to have someone to talk to in the language. If QC and NB are trying to be secretive, they will most likely talk back to each other in French.
State-tans
Edit
Tennessee: At first they didn't know each other, until TN actually told her she needed a boyfriend. That boyfriend ended up being him, but went haywire in the end of the strong relationship. After promising a little 'Madeline' and 'Noah', TN actually left her only to find out she was pregnant.

Mississippi: After TN left New Brunswick for MS, MS became extremley helpful towards NB. He helped her out, but their relationship got a little too close. Soon afterwards they figured out that NB would have triplets. (Madeline, Noah and Aiden.)
City-tans
Edit
Montreal: Quebec's daughter and New Brunswick's Niece. New Brunswick and Montreal have a very close relationship. Montreal is NB's first child's, Madeline, Godmother.
Axis Powers Hetalia Characters
Edit
Canada: New Brunswick blames him for people never noticing her. You name every province and miss one, it'll probably be New Brunswick (This is why she looks so similar to Canada). Other than this, their relationship is fine.
Either state facts or random tid-bits that happen in the character-creation process; any interesting fact goes here.
PerfectxArtist69 - http://perfectxartist69.deviantart.com/